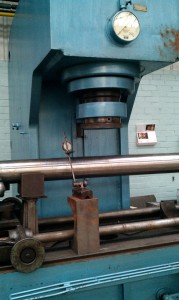 Services with Heat Treatment:
Straightening after Hardening
Straighten & Vertically Stress Relieve
Hot Straightening of Hardened Components
Services without Heat Treatment
Straightening of steel bar before machining
Straightening after intermediate machining
Straightening after final machining
Straightening after assembly including welded assemblies
Straightening shafts undergoing refurbishment
Straightening after damage
The tolerances that can be achieved are dependent on the geometry, as received condition and past processing
N.B. All straightening carries a risk of failure through cracking or breakage. While every care is taken, latent defects in the material or from stresses induced in prior processing can cause failure. To minimise this risk we strongly recommend that you have Holts carry out all heat treatment associated with the job. For these reasons straightening is only undertaken at the customers own risk.