Holt Bros recently celebrated its 150th anniversary. The company started in 1860 as engineers and blacksmiths supplying the local textile machinery manufacturers.
The modern company was created by the engineer Herbert Buckley before the Second World War when he saw the demand for wear resistant components from local machine tool manufacturers for application in their higher performance machines. Demand for these services grew throughout the 39-45 war.
Herbert Buckley worked with and was then succeeded by his daughter Brenda who was a highly regarded professional metallurgist in her own right. As an MD of a thriving business in a very male orientated world she was a woman years ahead of her time.
Brenda remained in control from 1981 to her retirement in 1992.
The business then passed to then technical director Vladimir Murawa who installed the first commercial ceramic coating plant in the UK, took the company into vacuum heat treatment while continuing to expand capacity and who remains a stalwart of the UK heat treatment community.
In late 2010 a new chapter in the history and development of Holt Bros opened when it was bought by another Halifax company KT Hydraulics. The company continues to be managed independently with Peter Fletcher joining as MD in 2011 and Vladimir continuing his wholehearted commitment to the company and its customers.
Holt Brothers has always been a technically driven company, whether pioneering quality standards through joining British Standards in 1939 -40 years before BS5750 saw the light of day- to today, developing bespoke specifications and treatments in conjunction with our customers.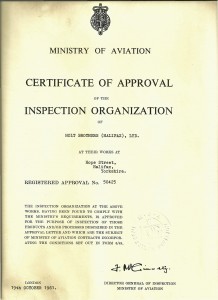 Over 50 years of Aerospace accreditation
History Timeline
Creation of Holt Bros Ltd
1860
Holt Brothers Blacksmiths start trading just outside Halifax town centre.
They service the industrialisation of the area based on large textile mills
1922
Holt Brothers (Halifax) Ltd created to turn the business into a limited company
Primary shareholder appears to be Ann Holt
1926 Sale
1926
Ann Holt described as "widow" sells her shares to Sam Brear
1926-7 Accounts
1927
First year's accounts under Sam Brear's ownership
1930s
Herbert Buckley acquires the business
Hx 1936 Directory
1936
Advert from Halifax County Borough Directory
1940-1945
Demand for war effort grows the heat treatment side of the business
1950s
Welding, Cutting, Chemical Blacking, Heat Treatment, Hardening, Blacksmithy, Chain repairs & testing are some of the activities in the records
Hx 1952 Directory
1952
The advertisement in the Halifax Directory hasn't changed much
1960s
Slum clearance in the area and new factory built to consolidate all the activities in one place rather than scattered around Hope & Chatham Streets
1981
Brenda Buckley takes over from her father Herbert on his death
1990
Integrated Operations, Quality and Finance IT system written tested and installed.
All Job and treatment history since 1990-1 is still easily retrievable from the system
2008
Brenda dies and the business passes fully to Vladimir Murawa
KT Hydraulics
2010
KT Hydraulics also of Halifax acquire the business from Vladimir
2013
Vladimir continues his life long relationship with the company in a consultancy role